Why do we love coffee?
Why do we love coffee?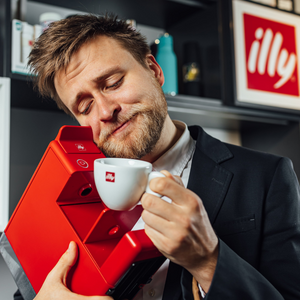 I LOVE COFFEE - we know how many of you think about it both when you enjoy your favorite coffee and when you run out of coffee or have to settle for the best. We are passionate coffee lovers and for several years we have been enjoying excellent coffee not only ourselves, but also offering it to our customers.
We started with a concept store on Valmieras Street, but soon developed our online store to provide coffee to as many people as possible. We have grown up. First of all, themselves, improving their knowledge and product offerings. You can buy coffee, coffee capsules, tea, brewing tools for coffee, coffee machines for various needs - both capsule machines and professional coffee machines for restaurant-level drinks.
Our business card is excellent illy coffee and the widest range of illy coffee capsules. We also have Lavazza , Segafredo , Rocket Bean Roastery coffee, our own freshly roasted Velvet coffee, as well as Nespresso coffee capsules. Dammann teas are also available, which are special for their aromatic and natural taste. Today, all this is available in the Valmieras Street concept store, "I love coffee" stores in the shopping centers "Spice Home" and "Riga Plaza", and, of course, on the Internet.
The circle of our customers is growing and their needs are also growing. Everyone wants to buy their favorite coffee easily, quickly and easily, regardless of their location or the device available at the time. We want to improve your experience, so we've created a new online store. First of all, it will be much more convenient to use than before. We have thought a lot about how to make the store easy to understand and the products we are interested in easier to find. We understand that today, almost half of the time we spend at the screen, we do it on smartphones, so the shopping experience must be flawless on any device.
Most importantly - we continue to provide excellent service:
Fast delivery as usual, because we will always have the goods in stock;

Personal consultation at the distance of one phone call or Messenger chat - so, here and right away;

Very soon we will be ready to make sure that coffee and tea are always in your home or office, because it will be possible to apply for a subscription - regular product deliveries at the time and place of your choice;

Your friends, relatives and business partners will also be able to say "I love coffee", as we will provide gift opportunities, discount codes and other special offers tailored just for you.
Often, we only appreciate good things when they are over or unavailable. But now, with the opening of the new "I love coffee" online store, we hope that at least excellent coffee will always be by your side. And, of course, we will also be waiting to visit to get acquainted and show a wide range of coffees, teas and coffee machines in our stores at 43 Valmieras Street, shopping center "Spice Home" and "Riga Plaza".
The new online store is in the air , and we will greatly appreciate if you share your experience and suggestions for further improvements.